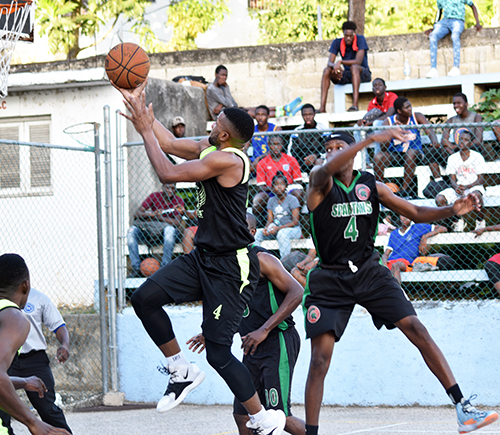 By  Michael Nattoo (Western Mirror) February 12, 2020


Western teams enjoyed successful outings on the weekend with Falmouth Saints being the more dominant as play continued in the 12-team National Basketball League with a double header played at the Montego Bay Cricket Club.
Saints rocketed to a 100-77 victory over Spanish Town Spartans before Montego Bay Cricket Club Knights (MBCCK) cooled Portmore Flames 68-60 in a less than spectacular affair.
Saints with the win, a second in a row, shot to the top of the zone with maximum points.
Saints who saw their first three point attempt connecting midway the second quarter, rallied from behind to clinch the win, quieting their visitors in sensational fashion, as Michael Schloss led the charge with 26 points, the same as Danny Powell, who also grabbed 12 rebounds.
Dave Black, who struggled to get his shots falling, added 13 and snatched 8 boards, while Michael Johnson also had 13 and collected 5 boards.
Levar Rose came off the bench to add 9 points in 10 seconds, including a clutch three pointer on a fast break.
Falmouth-based Saints trailed by 11 at the close of the opening quarter, but produced  superb second and fourth quarter displays, 33/38, on their way to claiming the emphatic victory.
They had given their opponents a late chance when they allowed an 8-2 run, which managed to level the contest at 62-62, before the Saints powered away.
KNIGHTS DEFIANT
Meanwhile Knights, who suffered defeat in their first outing, turned in a spirited performance on their way to a first win of the season, coming from behind.
It was close going between the teams early on with Knights recovering from yet another dreadful start, which saw them down by 7, before edging ahead 32-29 at the halfway point.
The scrappy affair, which saw a host of turnovers by both teams and uncontrolled dribbles and missed shots on the fast breaks, failed to spark, but the Knights proved plucky in the end, after several self-inflicted attempts at giving up the victory.
Rayon Gardener and Mikhail Smith, with 15 points each, did the business for the Jhuan Bryan-captained team, as they moved into second position in their group with three points.
The League continues on Sunday.