Born for this: Christeina Bryan makes Jamaica's basketball and netball teams
It all began as a fun past-time some friendly romping with her friends during 'wild netball matches'.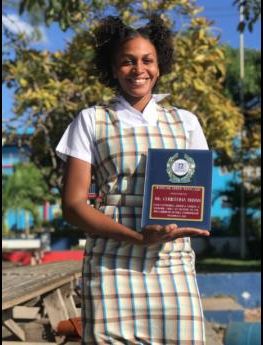 Today, Christeina Bryan, the resident of Pondside in Yallahs, St Thomas proudly represents the country as a part of the Jamaica Sunshine Under 17 netball team and later the Jamaica Basketball under 25 squad.
Reminiscing on the years leading up to her grand accomplishments, the 16-year-old told The Gleaner that she found pleasure in watching her cousins play netball while at Yallahs Primary School.
"I first started by playing netball in grade four at my primary school after I used to watch my cousins playing in the evenings. I would stay behind after school and play with classmates and the coaches and my talents began developing more. During those idle games, I have learnt how to balance, catch properly and understand more about the sport," she said, adding that she has always wanted to participate in the sports that she believes she was born to play.
Bryan who plays in the positions of goal defense, goal attack, goal keep and goal shoot told The Gleaner that she further developed her skills at home as the sports 'became a part of' her.
She shared: "I even created my own court at the back of my house using a barrel cover as the scoring hoop. I carried my talent with me to the Camperdown High School where I had different experiences with people at a higher stage than me. I failed sometimes, but I learnt and became stronger in the sport. I promised myself I had to represent my country and my wish had come true."
In fact, the young star admitted that she has accomplished more than she had bargained for as she was also made the captain of the Under 17 Sunshine Girls, leading her team and country to victory at their very first tournament in the 2018 Caribbean Netball Championship in 2018.
Jamaica was also named best defending team and best shooting team in the said match.
The fifth former shared that her basketball journey began when she was 15 years old after being introduced to the sport by her coach who also trains the national female team.
According to Bryan: "He saw my talent and came after it. And my skills developed even more, I've learnt how to jump higher and to think faster on my feet. In my first year of playing basketball, I made the national team and we travelled through the finals to victory and I got my first basketball championship in 2017."
The young woman admitted that she has had to learn how to balance both sports, especially being a part of two national teams. However, she said it has helped her to better manage her time and to be more disciplined.
Sports on a whole, she added has impacted the way she understands, respects, be patient with and trusts others.
Her goal includes finishing with great academic report and a sport scholarship.
"And in the next five years, I see myself pursuing a career in the WNBA and representing Jamaica at the senior level," Bryan shared.