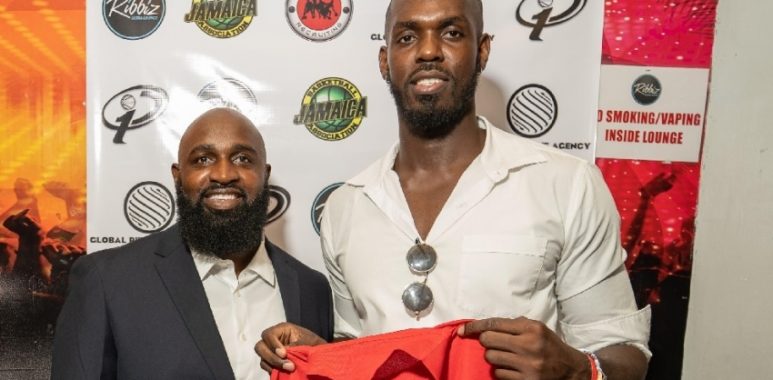 Nicholai Brown drafted No. 1 into First ever Caribbean Basketball Summer League
Former Tennessee Wildcats player, Nicholai Brown, was on Saturday selected as the number-one draft pick for the P.H.A.S.E 1 Academy Elite 1 Caribbean Basketball Summer League set to begin in August. P.H.A.S.E 1 Academy was founded by former basketball player Wayne Dawkins in Canada in 1993 and for the past 25 years has been organising and hosting basketball leagues and tournaments in Canada, the USA and Africa.
Brown, a 28-year-old power forward, selected by Team Red, was among the 20 local and overseas-based Jamaican players that were available for the draft and who will play in the league to be played at the National Arena from August 13-20 and will inaugurate the Fall professional season that is set to begin in October.
"It feels great, to be honest. It's my first time experiencing all of this and having the support feels really great," said Brown, who has previously played in Texas at Trinity Valley Community College and at Lindsay Wilson College in Kentucky.
"I just want to play ball to the best of my ability and compete against great players."
The second player selected in the draft was David Gordon, who will play for Team Blue while Lushane Wilson was the third player selected overall and first for Team White. Nadjrick White was the first pick for Team Black.
During the second round, Dave Black was selected by Team Blue, Nick-Caro Golding was selected by Team White, Joel Bailey was picked by Team Black and O'Wayne Lawrence was chosen by Team Red.
The third round of the draft saw D'Andre Forbes being selected by Team White, Daniel Martillier going to Team Black, Anthony White selected by Team Red and Jaedon Lawe picked up by Team Blue. In Round Four, Team Black selected Derjean Royal, Kasheef Clarke headed to Team Read, Patrick Robinson went to Team Blue and Roman Parkes was picked by Team White.
Antjuan McFarlane went to Team Red, Adeeb Vernon was picked by Team Blue, Alex Levy was selected by Team White while Calvin Malcolm headed to Team Black in the fifth and final round of the draft that Jamaica Basketball Association President Paulton Gordon hopes will be the first of many in the years ahead.
"This is the first of a long-term plan," he said.
"We want to use this opportunity to get more eyes on basketball and showcase the sport. As we all know unless there is prominence we don't get the traction that we need because invariably what we want to do is to ensure that the base is good and we want to get the eyes on basketball and get the players playing.
"We want to transition from this into the NBL in October/November and then complete that period with another showcase after the NBL season."
Gordon explained that the pro/am tournament that will have matches on August 13, 14, 17 and 20, will also see other players of Jamaican heritage joining the draftees in competition.
"We have actually invited some of the Jamaicans who are in colleges overseas to participate and we have some budding pros seeking jobs in Europe and Central America, who will be here," he said.
JABA will be partnering with P.H.A.S.E 1 Academy and Ribbiz to host the tournament and Gordon revealed that several other potential partners could be coming on board in the coming days.
"We are speaking with a few others who will get involved," he said. "There are some investors out of Canada, who support P.H.A.S.E 1, who are pretty sold on it and have contributed."
Meanwhile, Wayne Dawkins, founder and CEO of P.H.A.S.E 1, said he was pleased with the quality of the players selected for the draft.
"We are excited about the group of players who were selected. These are players with the national team and professional experience and people with strong resumes, and players with strong playing experience is exactly what we need to get the E1CBL started off," he said.
"These players will set a very high bar for where we want to take the league."