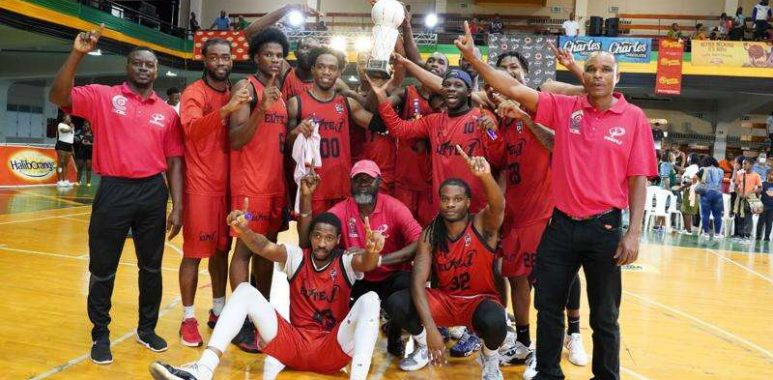 Elite 1 Horizon tops Elite 1 Caribbean Basketball summer league
ELITE 1 Horizon claimed the first championship title in P.H.A.S.E.1 Academy's Elite 1 Caribbean Basketball League (E1CBL) after defeating Elite 1 Storm 82-71 in the championship game. The action took place at the National Arena in Kingston on Saturday.
The result was a repeat of their preliminary matchup on Wednesday (August 17) during which the undefeated Horizon stated their intentions for the finals in a 106-84 victory over Elite 1 Storm.
Their win in the finals saw them ending the tournament with a perfect 4-0 record.
Player of the game and international MVP, American point guard Bobby Gray said the Elite 1 Horizon was able to dominate the league because of the bond they developed as a team.
"We wanted to win and play together as a team, be together, and come out with the victory like we did. We bonded as one, we played for each other — there wasn't no egos — everybody shared the ball and played for each other," he said.
The team's Head Coach Alphanso Remikie agreed with Gray but he also praised the team for maintaining their solid defence throughout the game.
"They maintained their character, which is playing aggressive and physically, and maintained their intensity — especially in the second half of the game," he said.
Jamaican centre player and co-captain of Elite 1 Horizon, Nicholai Brown was recognised as the league's local MVP after amassing 18 points, 13 rebounds, four blocks, three steals and two assists.
"It feels awesome. This is my first time getting an MVP. I always get defender awards so it feels really great," he said.
And after promising to give fans a show in the finals, Brown is content that his team delivered. "We really went out there and gave it our all on defence and offence. I enjoyed the entire atmosphere, just playing in front of so much people and cameras everywhere. It was different," he said.
Despite not getting the result he hoped for in the finals, head coach of Elite 1 Strorm, Jim Brunelli said was happy to be a part of the inaugural event and is looking forward to the league getting even bigger.
"This event was unreal. I think Jamaican people came out and made it very special; they brought Wayne Dawkins' vision to life. The local and international players made this something special and I really believe this is gonna blow up," he opined.
This sentiment is also shared by president of the Jamaica Basketball Association, Paulton Gordon.
"We expect an expansion of this league," he said. "Now that we're on the radar, we have other countries and players enquiring, we have some sponsors who are seemingly interested in basketball again — so we're looking forward to pulling all the stakeholders together to see where we can get to in very short order."
Meanwhile, founder of P.H.A.S.E.1 Academy Wayne Dawkins said the league's reception exceeded his expectations.
"It was amazing be able to pull off a production at this level that had people as far away as North America and Europe saying this is incredible and they want to be apart of it," he said.
He added; "I have to admit that in faith this is much bigger than I thought. God just kept opening doors and putting different people in place to allow it to become bigger and bigger."
The E1CBL Summer was sponsored by the Jamaica Basketball Association, Elite 1 Recruiting Platform, Ribbiz, TurboStats, Global Pipeline Agency, KFC, Phoenix Health Complex and Vision Centre, Athletic Fusion, Suretime Medical, Haliborange, Herbs, Facey Pharmaceuticals, M-One Productions and Confectionery and Snacks Jamaica.
P.H.A.S.E.1 Academy was founded by Jamaican-Canadian and former basketball player, Wayne Dawkins. For the past 25 years P.H.A.S.E.1 Academy have been organising and hosting basketball leagues and tournaments in Canada, the US and Africa. These events have contributed substantially to the growth of the youth sports industry.
P.H.A.S.E.1 academies are located in Canada, Jamaica, the United States, and Africa. Our student-athletes have access to expert staff, elite training methods, top competition, and exposure to greater opportunities. Over the years, we have assisted in the development of more than 500 athletes in receiving scholarships to study and play post-secondary sports and move on to become professional athletes.