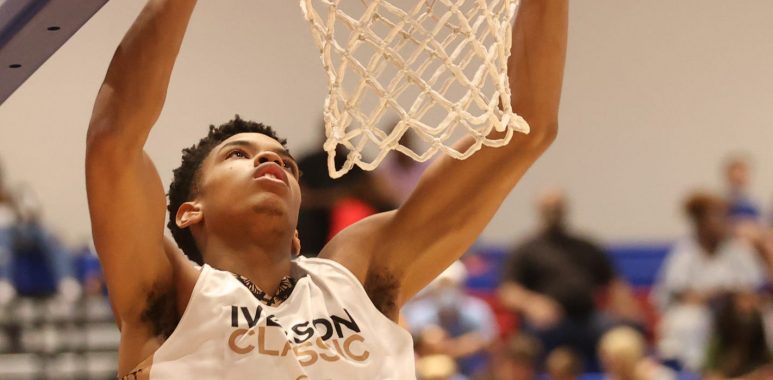 Memphis signee Josh Minott dazzles at Iverson Classic
National Junior player Josh Minott and Chet Holmgren combined for 38 points to lead Team Honor to a 143-131 win over Team Loyalty at the 2021 Iverson Classic Saturday at Bartlett High School.
This year's Iverson Classic is considered the premier high school all-star showcase game due to the cancellations of the McDonald's All-American Game and the Jordan Brand Classic.
Minott, ranked No. 35 by 247Sports, dazzled the crowd with a brilliant second-half performance that is sure to have Tigers fans salivating as they wait for his first college game.
He finished with 18 points, behind only the No. 1 overall player in the country, Chet Holmgren, and Iowa State commit Tyrese Hunter.
Holmgren, the Gonzaga-bound consensus No. 1 recruit in the country, put up 20 points and 11 rebounds. He was named Team Honor's MVP.
Minott, who has signed with Memphis, scored 18 points, grabbed five rebounds and collected an assist. Minott's two-handed slam dunk ended the game since the first team to 142 points was crowned the winner.
"It was fun," Minott said. "Just hanging on the rim, just knowing that it was finally over. Overall, it was all good to just put the exclamation mark on it."
The 6-foot-9 forward said he needed to psych himself up at halftime and embrace the moment he was in.
"I realized that I'm really not going to get this opportunity again. I'm in the locker room sitting down, I wasn't quite sulking, but I just had to realize that this is the last opportunity I'll get to play in high school," he said. "It was a crazy stage with NBA scouts, it was really just a great opportunity. I just found a way to showcase what I could do."
Indeed, a strong case could be made that Minott was the best player on the floor in the second half as he showed a vast set of skills. He knocked down a pair of 3-pointers and showed vision with at least three assists.
It's his dunks that captivated the crowd. He had an impressive put-back dunk and another in transition. He also was a presence on the glass and showed a hunger on the defensive end.
"I just woke up and realized what I needed to do," he said.
"It was great to be here. I love the city, they were showing love. You could kind of hear it in the cheers whenever I did something," he said. "This is going to be my home, I'm excited to be here, I'm excited to come here. I'm just ready to be a Tiger."
On a night where six of the top 10 prospects in his class shared the same floor, it was Minott who stood out.
With his performance, he also sent a message about what's to come.
"I feel like I showed everyone what I was capable of and that was really the goal coming in here," Minott said.