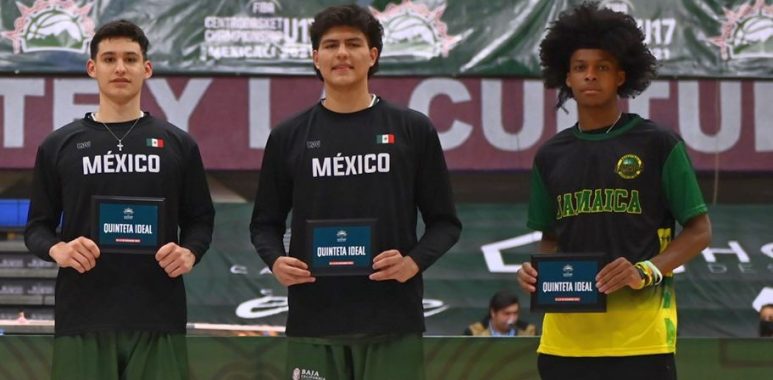 London Johnson named to Centro's All Star Five
Jamaica's London Johnson via his on court prowess was selected to the FIBA CentrobasketU17 All Star Five for his on court offensive prowess during this year's tournament. London was the tournament's leading scorer at 36-points per contest and he got things going in a hurry scoring 40 in each of his first two games versus Mexico and El Salvador.
The 6-4 guard shot 56-percent from the field in five games and 87-percent form the free throw line. Slenderly built, Johnson was fearless in the lane drawing foul after foul averaging 14 free throw attempts per contest. Johnson's all-around game gets forgotten when you see the gaudy offensive numbers, but he also averaged seven rebounds and four assists. As the tournament wore on – Johnson continued to make his team better by getting others involved.
Other honorary mentions were Edir Ortiz saved his best performance for the final firing in 28-points on10-19 shooting. His buckets were pivotal in Puerto Rico's overtime win against Mexico earning them the gold medal and his defense was something Puerto Rico fans will talk about for a long time as he snagged 10-steals in the contest.
Santiago Camacho saved his best performance for Sunday's final and all though the result was not what he wanted – his 35-point performance helped him win Most Valuable Camacho averaged 22.2-points per game, five rebounds and three assists to help Mexico reach the final and qualify for the 2022 FIBA U18 Americas Championship.
Victor Valdes was a steadying force for Mexico. The 17-year-old, 6-5 forward averaged 14.4 -points per contest as well as 6.8 -rebounds and an impressive 9.8-assists. Valdes got everyone involved and helped his team improve as the tournament went on.
Dominican Republic's Edwin Daniel's game grow each night in Mexicali. The 6-9 lefthanded forward helped the Dominican Republic win bronze and qualify for the 2022 FIBA U18 Americas Championship, Daniel averaged 11.2-points per game and 14.8-rebounds along with three blocks. Daniel showed his dominance in the semi-finals versus Puerto Rico with a monster 28-point, 17-rebound effort. Daniel posted double-digit rebounding totals in four of the five games he played and in three of those pulled down 17 or more boards.