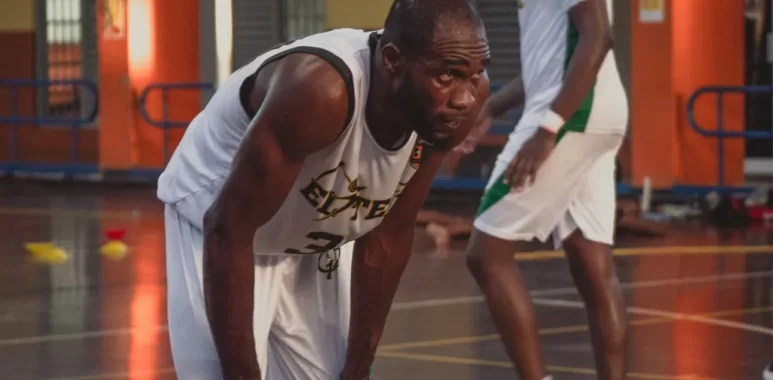 Anthony White Shares his Passion and Hunger for Basketball
He's 37-years-old and has long let go of his dream of getting to the NBA or acquiring a university scholarship through basketball but Anthony White's passion for the game has never diminished.
This fire was birthed when he was 16-year-old, and a football player at the Penwood High School in Kingston Jamaica. A friend of White's introduced him to the less popular game of basketball, and he decided to give it a try.
For a while, White played both basketball and football for his school teams, until his love for basketball superseded football and a choice became inevitable.
"Eventually I stopped playing football and focused more on basketball and I started to get better, learning the basics aspects of the game," he said.
After leaving high school, he worked different jobs and joined different basketball clubs and his game started to get better. His first club was the Braves Chief Basketball Club where he spent a year, and then moved on to Blazing Panthers where he stayed for six years. White then joined the St George's Saints before switching to and staying at the St George's Slayers since 2012.
Jamaica National Basketball Team
In 2013, the small forward player joined the Jamaica National Basketball team and has been representing the island ever since.
"I love the work, the grind, the fundamentals cause as you know we are never too old to learn and I am still learning about the sport and growing. It was just like a match made in heaven, I just develop that passion and hunger to be better than I was the day before or even last year," he said.
In a reflective tone, White shared that although he has not achieved his ultimate goals in the sport, he has still gotten some great rewards.
"It has opened a lot of doors for me in terms of job opportunities and friendships from different countries. It has been great because even now some of my peers can't believe that I'm still doing it at such a high level even to this day," he said.
And with the support of his friends and family, especially his mom who he says boasts often about his achievements, he feels very gratified. This has inspired him to lend his support to the younger players.
"At this stage in my career I actually want to help the younger generation from the grassroots up, show them the work ethic, the professionalism, and the joy and passion that's in this game," he said.
White dreams of seeing basketball being a major sport on the island, and shares how he believes this will be possible. "I think we need to come together and not just be separated in our own little world because, in order for the sports to grow, everybody has to play a part. For me I'd just love to see if you have a camp this week, I'll be at your camp and then you and your team will be at my camp next week. Those are the types of relationships we need to build the sport," the Seaward Drive native said.
He is also a member of P.H.A.S.E.1 Academy's Pro Development Team, and the experience has served to bolster his confidence and his will to make a difference in the game.
"Training with Dawkins has been great. I try my best to be a sponge for the knowledge that he possesses, in terms of work ethics and other things like how you approach the game and how you apply yourself to the game," he said.
by: Elite 1 /P.h.a.s.e. 1