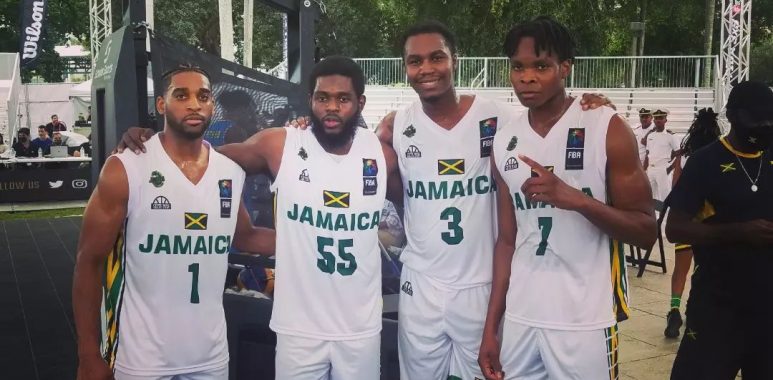 Jamaica's hot runnings at FIBA 3×3 AmeriCup 2021
Odds are you are familiar with the four Jamaicans who made it from the streets of Kingston to the 1988 Winter Olympics in bobsleigh. Thirty-three years later, another group of four is working on a 'Hot runnings' version of 'Cool runnings' under the sun of Miami at the FIBA 3×3 AmeriCup, with the Paris 2024 Summer Olympics in mind.
"It is true that whenever I talk to people about being involved with Jamaica basketball, almost every single time, the bobsleigh team comes up", Head Coach and National Coordinator Rick Turner said.
"I think we're similar in that we are not talked about, we're flying under the radar and when we get a chance to show the world what we can do, good things will happen. I hope a John-Candyesque person is not casted in my role. I hope someone more like Matthew McConaughey or Bradley Cooper. I think we have a great story and maybe that will be Part 2 of Cool Runnings."
For their first-ever participation in a FIBA 3×3 official competition, Jamaica put together a versatile team, which impressed on Day 1 of the FIBA 3×3 AmeriCup. The women's team left the tournament early in the qualifying draw despite Antoinette Bannister putting on a show. The men's team won three games on the same day, sweeping the qualifying draw with comfortable wins against Aruba (22-11) and Haiti (21-11).
In the main draw, they extended their winning streak with a big win over number 6 seed Chile (21-14) before fatigue (and a talented Brazilian team) finally caught up and Jamaica got their first L (15-20).
'We came out here and made a huge impact immediately", 32-year-old Kevin Foster said.
"Everybody knew: 'ok, Jamaica might have something!". That was our whole goal to make people realize it's not just soccer, track and field. Jamaica is here. We're here to compete!"
The force of this team is the group. After four games, all four players once led the team in scoring. While Foster had a team-high 6 points (tied with teammate Taevaunn Prince) against Haiti, the shifty Jabulani Newby led the way against Aruba and Brazil while the spectacular Romaine Thomas scored 8 against Chile.
Like a lot of his teammates, Thomas was born and raised in Jamaica before moving to New York and for him, representing Jamaica has a special meaning:
"It just feels great to give everyone else a chance to see where we come from. See those kids looking up to us in Jamaica, we have to make a name for ourselves and show basketball players also come from Jamaica."
3×3 is a small world and Thomas may play in his first 3×3 official competition, he got special advice from a former teammate in streetball tournament, World Tour 2019 regular season MVP Dominique Jones aka 'Disco Domo':
"He told me that the game is different, everything is more fast-paced, conditioning, stuff like that. He just gave me good advice on what I need to do in order to be an effective player", the baby-faced 27-year-old said.
For Turner, this is just a first step towards their own Olympic dream. 'Cool Runnings' went to Calgary, 'Cool Runnings' Part 2 aka 'Hot Runnings' is going to Paris?
"When I first took this position at Jamaica Basketball, I wanted to create a touchstone that people could relate to immediately and we thought that Paris 2024 would be that touchstone and tried to hashtag #Paris2024 in everything we did and make it something that we could work towards, a goal that is up there for us. The great thing about 3×3 is it allows countries with not as much funding to be involved and compete at a high level along with the big boys, who have the resources. When you get a chance to play for something so special such as the Olympics, it increases the awareness, which hopefully increases the funding and the resources."
That one loss against Brazil on the opening day means Jamaica get one of the toughest matchups in the quarter-finals against the 2019 world champions USA. Watch it live on our official YouTube channel and on livexlive.com/fiba if you are located in the United States.