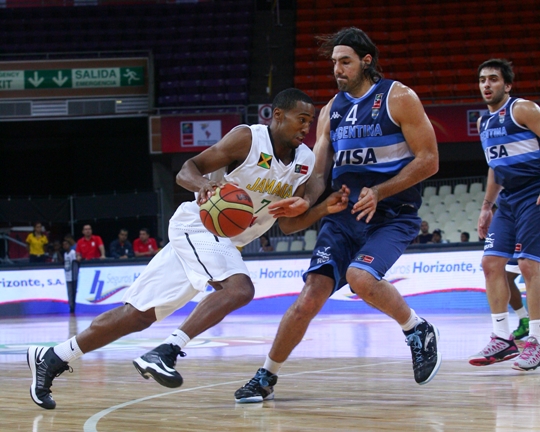 President of the Jamaica Basketball Association (JABA), Paulton Gordon, said that it will cost approximately $14 million to host a pre-Olympic qualification camp for the men's national team before the start of the qualifiers next year.
Gordon revealed that there are more than 30 professional Jamaican players plying their trade in the USA, Europe, as well as South and Central America, and that American coach Rick Turner wants to assemble his squad for a two-week preparation period to work on tactics and build chemistry.
Apart from airfare and accommodations, which will account for the majority of the funds, Gordon wants to ensure that the players are housed in an environment similar to the standard they are accustomed to.
"We estimate that it is going to cost us about $13 to $14 million Jamaican dollars to host the camp, and we need to pool that together to get the players primarily from Europe, so we can host them and prepare them properly," Gordon said.
"We are hoping for a 10- to 12-day camp, then ultimately to get them (team) to whatever tournament and fly them back to their destinations. So a lot of it (funds) will be travel cost, accommodations and logistics," he continued.
"We are looking at all available players, the ones in the NBA now, the ones transitioning to the NBA next year, and the professional players in Europe, Central and South America. So ensuring that the environment that they are staying in is appropriate and at a level that they are familiar with is essential. We have to ensure that we maintain a certain level and quality and do a proper camp," he said.
GOVERNMENT ASSISTANCE
The first stage of the qualifiers will be the Caribbean leg, but no time or date has yet been set for that tournament.
However, Gordon expects the Government to assist with some of the funding. He also anticipates some assistance from the Jamaica Olympic Association and will count on some commercial entities to come on board as well.
"We will be looking to the Government for assistance and we have opened dialogue with the Jamaica Olympic Association. We are also hoping that some of the commercial sponsors can look and see how best they can attach themselves to a programme like this," Gordon said.
"The date hasn't been set as yet but we suspect that the qualifiers will be some time in August. The camp we are looking at will be after the guys have finished their season, and I suspect that most of the seasons will not finish until June, July, so most of them (players) might not be available until about June," Gordon shared. "But we are hoping that as early as possible, we can identify this funding, get it and make it (camp) work."
Jamaican player Nick Richards was recently drafted by the New Orleans Pelicans and traded to Charlotte Hornets in the NBA and is among a group of exciting talent representing the island, including Romaro Gill, who has signed with the Utah Jazz, and college prospects Josh Minott, Jordan Kellier, Kofi Cockburn and Lawrence Foreman.